Junior Racquets
Tennis
The BHC Tennis program offers a personalized lesson plan for children ages 3-17 at all skill levels. Choose from a variety of clinics or opt for private instruction. Beacon Hill Club is also proud to participate in the New Jersey Junior Tennis Association (NJJTA).
Tiny Stars (Ages 5-7)
Just right for future tennis players! This clinic is designed with younger players in mind. Junior racquets will be available for purchase. If you want to give your kids their first taste of tennis, this is the perfect beginning.
Rising Stars (Ages 8-10)
Previous experience is not necessary; however, a beginning tennis foundation is preferred. These clinics are designed to start your child off in a comfortable and non-competitive manner. All skills will be taught using fun and energizing methods.
Aces (Ages 11+)
These clinics are designed to help get the juniors playing and feeling comfortable with stroke production. This is a fun way to help shake off the rust and allow juniors to continue their progressions as they move up along the tennis ladder.
High School Boot Camp
With high school tryouts right around the corner, our boot camp is designed to help tune up your high schooler's tennis game before the start of the new season. Utilizing a 4:1 student:pro ratio and rotating stations, all areas of your tennis game will be refined through this highly-focused and structured mini-camp.
BHC Junior Team Tennis
Beacon Hill Club is proud to participate in the New Jersey Junior Tennis Association (NJJTA). This 5-week inter-club league is competitive, but still keeps an emphasis on the fun aspect and strives to get all our kids to play matches in a relaxed social environment. Players participate in both doubles and singles play based on the number of players for each match. Host clubs have tennis professionals on hand at match sites to help organize play and keep similar abilities together.
Paddle
Adults aren't the only ones who love playing paddle at BHC. Perhaps it's the revived energy they take from the crisp winter air, or the desire to extend the friendships made on the tennis courts, but BHC junior members have experienced a growing interest in paddle.
The BHC junior paddle program looks to capitalize on the "fun factor" of the sport while focusing on physical and motor skills development, improved coordination and endurance. Since paddle is an easier game to play than tennis, many of our junior players find that a winter of playing paddle improved their tennis game immeasurably by the spring. Paddle also helps them to build confidence and self-esteem. Others find that paddle is a great complement to playing a team sport such as hockey. Either way, paddle is not only an excellent way to keep active through the winter, but a fun way to stay in touch with friends throughout the year.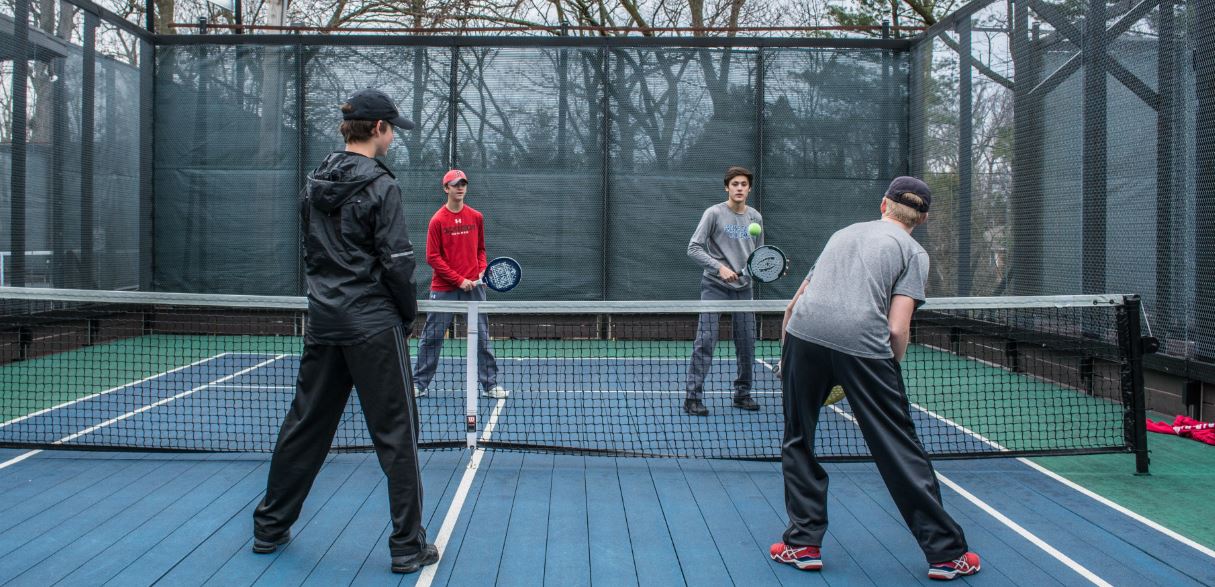 TENNIS SUMMER CAMP